mood wistful

For My Birthday, I Want Bigger Boobs.

While I dont want to be the source of all things glum and lamentable and exude negative energy on the day that marks another year God has bestowed upon my life, I must admit that I am not exactly ecstatic to be a year older.

Sian, leh! No longer 21.. What a bummer... Maybe it's a girl thing, you know. We want to stay young and wrinkle-free forever and forever til Thy kingdom come. Amen.

And every year on my birthday, I embark on the same guilt trip that by now has started to seriously eat me up from the inside. All the well-wishes from people I never thought would remember, just made me feel so devoid of conscience. Because I don't remember theirs. I am just so horrible with dates, and even that is mightily understated. There had been times when I would randomly ask Rudy "When is our anniversary?" and I told him I was just testing him but really, it was just to remind myself during those moments when I was on the brink of forgetting. There, I've admitted it! Now he's gonna wallop me the next time he sees me. I've also lost count of the number of times that I ask Gid every year without fail, "when is K's birthday again??"

and I still don't remember.

So, for this year, on top of bigger boobs, I also want a better memory. Double dose. And to everyone reading, please do me a big, big favour and leave me a tag. When on earth is yous' birthdays?? I swear I'm buying myself a birthday reminder book. PLEASE :(

Anyway, for once I didn't have to spend my birthday studying for exams, which was really great. Everyone had been really nice to me. Actually, wouldn't it be nice to have birthdays 365 days of the year (or at least until 5th May)? Then Wayne would feel obliged to do the dishes for me every morning. haha.

Wayne gave me a really funny card with an equally funny present in the form of a scratch-it card. I had never seen it before in my ENTIRE life! It was a card full of different scratch-its, like jackpots and tic-tac-toes and if you get a bingo, you win the prize money written on it, which you can claim from the news agent. Bloody hilarious! So exciting, and I won ten bucks!

Maysan made me two red eggs with faces painted on it, with Rafaello chocs (!!) all already nicely laid on the table when I trotted out to the kitchen all bleary-eyed in the morning. I'm so touched! Thanks for waking up an hour early for me. :)

Thank you, keiko, for the very touching post. I'm about to go all sappy now!

Yesterday was badminton night but I only spent an hour there, yakking most of the time, before maysan and I got whisked away to have coffee and cake at Surfers' by Kwang and the gang, albeit looking super unpresentable wearing horrible workout clothes and all. It was a really impromptu thing.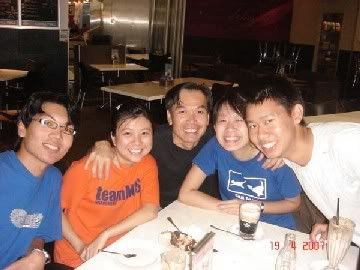 Keegan, Maysan, Kwang, Me & Jesse. You get what I mean when I say horrible workout clothes?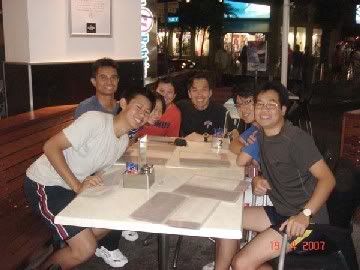 All of us. Including Ty & Jimmy (who came back from Thailand in the end hip hip hurray!)


Kwang works at Seaworld and he even got me a present in the form of a giant Seaworld towel, which is really nice of him but uhh.. I'm not sure if my luggage would have anymore space left by the end of this trip. At the rate that I am buying shoes and stuffing my suitcase chockers with them, Rudy may just end up having a new towel to use. Jesse got one too! Because his birthday is today. And Maysan is going to get one as well on the 30th. Damn funny...

He was being exceptionally generous last night and he offered all of us free entry to Seaworld for next week so we could visit before Maysan and I leave Gold Coast. He also told Maysan and I that we could do the snorkelling with sharks thingy for free (the rest gotta pay $20), when it would normally have cost $60, on top of the Seaworld entry of $62.

In addition to all that, he also paid for all of our coffees and cakes.

Holy Moley, I felt so bad and very embarrassed too, for him kicking such a big hoo-ha over a birthday. But it was a really nice gesture nonetheless. I am kinda touched :)

Anyway this weekend Wayne has got another badminton tournament so we are tagging along to Sunshine Coast! Thank God for badminton tournaments because otherwise Wayne would have agreed to go there only over his dead body, having been there so many times. Especially cos it is like 2+ hours drive from Gold Coast. Gonna be staying there for the weekend!

So that about sums up my day.



On another note, tomorrow would have been my auntie's birthday.
Labels: aussie