Cheap Bag Thrill


Balenciaga Leather and Suede Embossed Bag. $1695

Balenciaga Giant Brief Black Leather. $2950
Love these bags! But given my current state of financial inadequacy, I can only afford to buy them on Facebook. In the virtual world, I own two balenciagas, a Marc Jacobs Delancy Tote, and a Chloe Tote. And since I am feeling generous today, I gave my sister a Chloe Paddington and a Coach Hampton wristlet.

We just spent a good ten minutes contemplating our purchases before stupidly realising that hey, what the heck, this is UNREAL. Oh well.

The Fab Bag Application. Gotta love it! :)

Labels: mumble jumbles




mood on caffeine

eat peanut butter sandwich

drink masala tea

doing Food Component Functionality, Colour Determination lab report

time-check 3.20am

thoughts 5 hours of snooze, give tuition, come back, do Food Engineering tutorial and nanotechnology research. Hello, monday. Where did sunday go? and saturday? friday? thursday??



Incoherent.

This is the epitome of business at its best. There is simply NO TIME. My weekdays are so packed to the max with school and tuitions, in the evening, I get home and crash. The only way to complete assignments, is to douse my neurons with coffee and hopefully trigger enough synapsis to churn out something intelligent. In my quest to eke out crumbs of time from the most impossible of places, a sick part of my consciousness that poke its head once in a while actually secretly derives some sort of sadistic pleasure. Lets roll.

Labels: mumble jumbles



mood tired


Another kind of break

Since kl tagged about it, I thought I might as well blog it proper.

After the Sarawak and Malacca trip late last year, the first thing keiko and I did the moment we grudgingly came back to Singapore, was go to Botak Jones, stuff ourselves with food, and talk about how much we wanted to travel again. Maybe it was the lethal combination of food and two combustible, travel-hungry minds. It was only barely two hours after we stepped back on Singapore grounds, that *tada* another crazy trip idea was conceived.

THAILAND in May! :) Yipeeyay!! Most prolly 10th May straight after our exams.

We will be backpacking mostly in Northern Thailand. The plan is to fly to Bangkok, take a bus to Um Phang, then on to Mae Hong Son and Chiang Dao for some hilltribe trekking and caving, to Chiang Mai, take a train back to Bangkok, and then to Kho Chang for beach. Something like that. Would stop by Kanchanaburi and Ayutthaya if there is time. We are probably going to bust our butts with all those bus and train rides, but I think it's going to be great :) It will be a roughly two and a half week trip. After that, I most probably gotta zoom off to Bali. But this time, instead of just going home, I will be taking on a traveller's perspective and explore more places while I still have the chances, instead of just bumming around doing naught.

I've been so busy these two weeks eversince school starts. All my resolutions to exercise more blahdeblah have temporarily gone out the window. No time to even sit somewhere quiet more than 15 minutes doing something that has got nothing to do with school or tuition.

May. What is taking you so long...
Labels: South east Asia, travel
mood ROFL


Bob Marley is your friend.

I came home 10 minutes ago to find a hula-ish, sha-la-la kind of chillout tunes originating from the computer. It made me feel like I was in Hawaii, in the setting of the movie poster of 50 First Dates, swinging on a hammock with a Pina Colada in one hand. Umm, definitely not in 21st century.

And there, sitting in front of the computer doing homework, is my brother. My electric guitar-jamming, punk rock-grooving, speaker-blasting brother, who declared, I am hooked to Bob Marley. The songs are kinda cool!

I'm not sure which one is more bizarre, the sight of my brother doing homework so early in the night, or HIM LISTENING TO BOB MARLEY OMG. I looked at him quizically while simultaneously pinching myself, and thought, This is the day of hope and salvation!

Seriously. Bob Marley?!?! MY BROTHER?
Labels: mumble jumbles
mood grouchy


Fatigue

School has started and I survived the first week with the help of several lunch escapades out of school and some good ol' procrastination. Work is going to pile up soon, and at the same time, I am getting so tired of having to earn money because it is a need and not a want. I feel like I am holding my breath and running a marathon, ploughing on and on even though i don't feel like it.

Can't wait til May, when this academic marathon officially ends, and I go off for another backpacking trip. Thailand! Speaking of which, my last post on Sarawak (part 3) has still not materialised. Zzzz...

Leaving for tuition now. The best thing that can possibly happen to me right now, is a night off.
Labels: mumble jumbles
mood
bloated
Drink coffee, talk, eat, talk some more.
Met up with Denyse and Keer Ling yesterday. Seemed like only yesterday that we were mugging our asses off, going sleepless in central library level 5 discussion room preparing for food enzymology exam. Oh my, we are all growing OLD. Keer Ling, I still miss mugging with you in arts forum! :(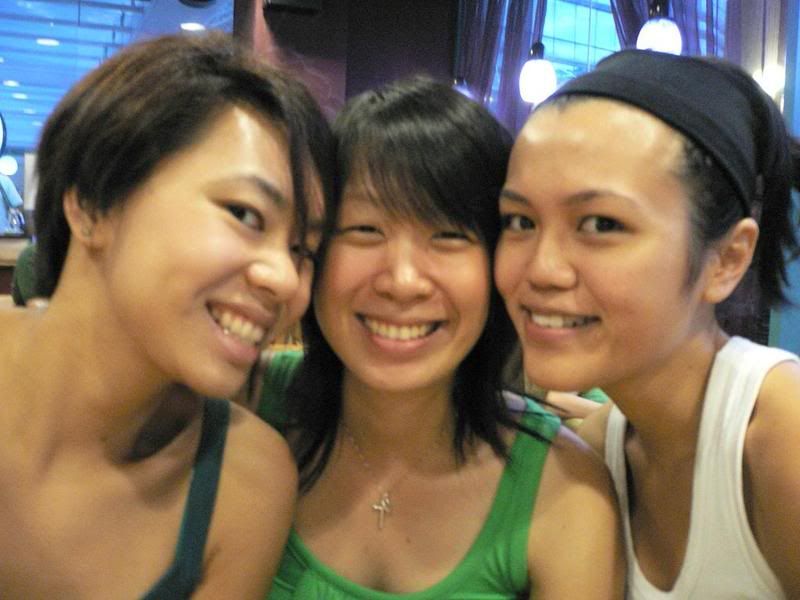 The two university buddies that I know I will miss when I start working in half a year's time (EEKS.)

Labels: school




mood hot


Sarawak/ Mulu Trip (Part II) - Day 6-8: The Garden of Eden trek

Right after the Pinnacles Trek, our muscles were pretty much slaughtered. People in their right minds would normally take the rest of the week off recuperating in some quiet corner while sipping wine. But we, on the other hand, still had a whole list of programs lined up for the remaining four days, all requiring muscle flexing of some sorts. God help us.

The next day, after the climb, we had to make our way back to the Mulu Park HQ via the way we came - an 8.8 km jungle trek. Despite the flat terrain, we did not look forward to it.

We took it slow and easy, yet that did not stop me from twisting my ankles FOUR times along the trek. Just minor twists, but that added up to one twist every 2.2 km, which is quite a feat, me thinks. They must have loosened after being twisted twice during the Pinnacles climb. Anyway, it was also during this trek that I got my virgin leech bite. haha. Alright, so the leech wasn't exactly as huge as I pictured it to be, but still.

We finally reached the HQ in the late afternoon and checked into our dingy hostel room (which was the only one left because they messed up our booking, but it's alright). We then spent the rest of the evening cabbaging around, washing an obscene amount of mud-smeared clothings, and eating junk for dinner because we couldn't be arsed to find proper stuff to eat. We had a very early night, but was woken up a few times in the middle of the night because every time we tossed or turned, our aching muscles were screaming bloody murder and intruding into our dreams.

The next day, bright and early, we checked out of the dorms and checked into the deluxe longhouse, before going to the airport to pick Wayne up. Being the gungho backpackers that keiko and I normally are, the rather high-end longhouse was such an indulgence. A very worthwhile splurge though, because NO MOSQUITOES YAY! And we had soft pillows, comfy comforters, air-con (OMG!), plus it was en suite with really good-looking toilets. But just a tad too romantic for the three of us, with dim lights and all. haha.






Anyway, that day was also the day we were scheduled to do the Garden of Eden trek together with Wayne the soonest he arrived. We spent the whole morning attempting to chant our muscles back to recovery. But even by the time we sat in the airport waiting for Wayne, we were still pretty much moving around like grandmothers, wincing and limping away, much to the amusement of the security guards standing near us. Anyway so we waited for Wayne to arrive. And waited. And waited. We stood around, ate, drank, got bitten by another hundred mosquitoes, and waited some more. Turned out that his flight was delayed, and he only appeared two hours later. Needless to say, we didn't manage to make it back in time for the Garden of Eden trek. It was postponed til the next day, but keiko and I were secretly a little relieved. Hurrah!

Ended up doing a canopy walk, which is supposed to be the longest canopy walk in southeast asia or something. It was alright, but no big deal.

The first thing Wayne did the moment he had a bit of idle time, was look for beer. So we walked a few kilometres to a dingy little bar away from the HQ, and lo and behold, got caught in a heavy rain on the way back. But the 7 cans of Tiger beer that we were happily lugging back despite the rain, made up for it. After the half a year that passed ever since I last saw Wayne in Gold Coast, I couldn't help but think that there was something very peculiar about us sitting in a longhouse, in the wilderness of Mulu, allll the way in Sarawak, catching up over Tiger Beer while looking at photographs. Yet, in the words of Wayne, It doesn't feel awkward. It doesn't feel like you left, maybe just went away for a while.

And that was exactly how I felt. The memory of that life in Australia was so intense and still so alive, that it was just too easy to pick it up from where I left.

Anyway! The next day was the Garden of Eden trek. It was a trek through the massive Deer cave where we leave the regular boardwalk and then climb down into underground river, past all the bat poo-covered rocks, and to a glowing pool of water which was supposedly the Garden of Eden.






We had to do a lot of climbing up and down with ropes. That was also where I slipped and did an acrobatic act of being suspended mid air. If not for the rope (thank the heavens), I would have tumbled and rolled into the river, and knocked my head on some rocks. Wayne, on the other hand, made it look like a piece of cake. Many of the rocks were covered with guano (bat poo), like a disgusting frosting on top of a cake. According to keiko, when you put your hand on it, it literally sinks in. Thank GOODNESS I was spared that experience.

The water in the underground river was incredibly clear. So very beautiful!



The Garden of Eden Pool.


Because we opted for the River walk as well, from there we got to venture through some walking trails that first involved climbing some rocks to get to the other side of the pool. However, knowing how unsavvy we are when in comes to climbing, keiko and I opted to swim across instead. WAY better. But wetter.
After we got to the other side, the next part involved walking across a stretch of shallow rivers. It was a lot harder than I expected because it was so darn slippery and balancing on precarious surfaces isn't exactly my forte. Keiko had to yell pointers at me from a few metres in front. DON'T STEP ON THAT ROCK! Go that way! Keep LEFT!







The moment we were out of water, we had to trek along extremely muddy terrain which was FULL OF LEECH (thanks to the heavy rain the night before). It was insane. The leeches were everywhere. Our guide kenneth was constantly pulling out leeches from various parts under his shirt. At one time, he digged into his pants and we thought he was just mucking around but he REALLY did pull a leech out from his groin. I was SO paranoid because strangely, I didn't get any.

Anyway, this trail led us to a really beautiful waterfall and rock pools where we had our lunches and swam and spent probably an hour frolicking in the waters. Didn't take pictures there because we were too busy wading, floating and swimming around :) For some strange reasons, our muscle aches momentarily ceased to exist during this trek.

Even as we were getting ready to go back, there were leeches hiding in our shoes, in Wayne's bag, stealthily sneaking around waiting for the chance to pounce on us. It was disgusting. Keiko was particularly unfortunate, and I had to periodically come to her rescue, armed with leaves, twigs, and an assortment of objects to get them off.





A little toad we found nestled in the hollow of a trail marker. Couldn't resist a shot, but didn't manage to take a better one because just nearby, keiko was already jumping around battling another leech. "FEL! LEECH!!!"



After that, we made our way back, visited Langs Cave (2nd time for keiko and I), and then waited for the Bat Exodus at the bat observatory, still in our wet clothes, soaked to the bone.





Those dots are actually millions of bats that came pouring out of the cave entrance. Not exactly in an explosive manner like I visualised, but batch by batch. Still quite an eye-opener nonetheless. Headed back to our comfortable longhouse after that, and we got caught in the rain on our way back. AGAIN!

Labels: Malaysia, South east Asia, travel




mood pleased


A few hours and many edits later..






I think I am going to stick with this layout for a while :)
Labels: mumble jumbles
mood nostalgic


365 days

I can't believe that at this exact same time last year, I was sitting in a Qantas plane headed for Brisbane, feeling on top of the world.

It's funny how even after one whole year, it still aches.
mood grateful


Two zero zero seven in retrospect.

In my first reference to year 2007 using past perfect tense, I would like to say, it had been a really awesome year.


The year started with me zipping off to Gold Coast to fulfill my industrial attachment. And what can I say? So thus, I spent the better half of the year living every day like a dream. It was nothing short of an escapade, the best thing that I saw in my life ever since A levels, and that alone, was enough to make 2007 so worth living.
I have travelled to places, gotten in touch with a side of my personality that never had had the chance to surface before. And in so doing, I discovered that sense of euphoria that entails, from jumping headfirst into the unknown. I got a thrill out of talking to strangers, meeting new people, doing and saying things without thinking, just to see where they would lead me.
I have backpacked to Sydney, bushwalked through the wilderness of Tasmania, immersed myself in the quaint and multi faceted city of Melbourne. And in those six months, I had seen the beauty of nature so mesmerizing, those which I previously could only see in postcards. Australia was a break I had so desperately wanted and God had so graciously given me. Only that it not manage to quieten my soul, only left it wanting for more.
I also made a new friend. One who turned out to be the crappiest, non-stereotypical caucasian, ever. An unlikely co-supervisor, a host, a housemate, a late night TV buddy, a shit spinner, and a dear friend, all rolled into one impossible combination. But yet, for the amazing time I had in Gold Coast, all credit goes to him. To Wayne, whose crappiness was like a breath of fresh air that bit by bit, unravelled the convoluted mess in my head.
But I digressed...
Mid this year, after a year of very intense contemplation, I finally decided not to do honours, only to have my plan thwarted inside out and upside down by divine intervention. It was not a bad thing, and even turned out to be a blessing. Despite not getting my top 3 choices for final year project, things have been coming up roses. This semester, for the only core module I had to take, I got an A for it. Amusingly, my first A for a core module, out of 5 academic semesters. But really, I couldn't have expected less. Things have been so easy with You around. I wish I had been more serious about it much earlier.
Early this year, my siblings started schooling in Singapore. And after coming back from Australia mid this year, it was also the first time I started staying with my family again, after ten years of being abroad alone. It had been very endearing. Pleasant, save for having to play mother to a curfew-breaking brother at the peak of puberty.
Also, I transferred to a new cell group, and joined a new ministry in church. It was a brand new start, it's been great to far, and I am looking forward to many exciting things to come.
This year was the third year of my relationship with Rudy. My first and hopefully my last :)
I also adopted a bunny from SPCA. She's very well, still alive, and FAT.
To conclude the year, I also had a backpacking trip to Mulu, Sarawak, with a friend whose friendship I have been privileged to earn. And that is also another reason why my 2007 was full of chaos, spontaneous trips, confusion and disorder, but also of inexpressible joy and fun. Thank you keiko, it was such a pleasure being your friend :)
I have climbed a mountain (sort of), swam in caves, and roughed it out in forests. If anything, year 2007 had made me realise my passion for travel, my unquenchable thirst for the unknown.
Year 2007 had been good to me. However, I realised that it was also this year that I changed the most. Outgrew certain things, acquired others. Perhaps a shift in perspectives, some rearrangement in priorities. A recent conversation with keiko have also made me discover that I am not a very nice person. I am harsh in judgement, and insensitive in demeanour. A tad cynical towards people, intolerant to many things, a little too unforgiving in giving chances.
Next year, I want to be a better person. I want to be a better girlfriend, a better daughter, a better sister, and a better friend. I want to embrace life with greater zeal, and love people with greater sincerity.
2007 was a splendid year. But I hope 2008 will be my best yet.
Happy new year to all :)




P/S: It was also in year 2007 that I discovered, epilator is the best thing invented by Man. Ever.
Labels: emo, mumble jumbles